Great times at Festival Of Originals in Houston Texas
The Festival of Originals in Houston Texas (commonly known as the FOO) consists of 5 twenty minute originals by 5 different playwrights with 5 separate directors and 5 separate casts. Submissions are sent from all over the nation and a spattering of foreign countries. Up to 600 scripts are submitted. The 5 chosen are for the best eclectic mix.  See also: the complete list of top things to do in Texas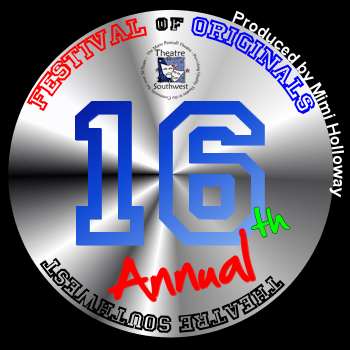 Name 5 of the top events to see at the festivals: Closing Time (drama), Idenity(tear jerker),Many Miles (comedy), Games We Play (comedy), Kill the Messenter (drama)
Your top 5 best words to describe your festival or event?: eclectic, dramatic, comedic, touching, suspensiful
What type of festival is it? (festival genre): Culture fest
Address of festival:
8944 Clarkcrest
Houston, Texas, 77063
United States
Festival / event start date: 07/19/2013
Festival end date (only for multi day events): 08/03/2013
Website:
theatresouthwest.
Now entering it's 17th year, we're very proud of our Festival of Orignials. Five original one-act plays, by five different playwrights with five different casts, are premiered on our stage each year. This eclectic mix never fails to please.
Additional information about the Festival of Originals in Houston
On the third Wednesday of every month Theatre Southwest holds it's monthly Membership meeting. Far from a tedious recap of the monthly business (oh, there's some of that, but only the necessary stuff) we entertain our members with either a scene from the show currently in rehearsal, or a workshop scene directed and rehearsed by our members. The public is welcome, so please attend. We would love to see you there.
July 18 ~ August 2
Matinee, July 27 @ 3:00 pm
Auditions: June 1 & 2 at 7:30pm
Playwrights… here's how to submit a script
And HERE is a list of the past festivals. It's incomplete so if anyone can help us fill some of the gaps email webmaster@theatresouthwest.org
#16 – 2013
Title RE: Kill the Messenger by Bryan Maynard
Directed by John Mitsakis
Cast: Wade Gonsoulin,
Title Games We Play by Michael Weems
Directed by Steve Carpentier
Cast:
Title Closing Time by Carl L. Williams
Directed by Bob Maddox
Cast:
Title Identity by
Directed by Kelly Walker
Cast: James Barberini Winchester, Virginia
Title Many Miles by Rose-Mary Harrington
Directed by Jay Menchaca
Cast: Taylor Biltoft
#15 – 2012
I Can Feel It Coming On by Carl L. Williams
Directed by David Hymel
Cast: Chris Hymel, Scott Holmes, Sammi Sicinski
Sweet Jesus by
Directed by
Cast: Rhett Martinez, Pam Pankrantz
Instant Harmony by
Directed by
Cast: Bob Maddox, Howard Block
Downtime by
Directed by
Cast: Wade Gonsoulin,
#14 – 2011
Thirty Years War by Tim Davis
Directed by
Cast: Zona Jane Meyer, Carl Masterson
Lobster Man by Jonathan Cook
Directed by
Cast: Brian Heaton, Taylor Biltoft
Double Negative by Carl L. Williams
Directed by
Cast: James Reed, Mack Hays, Sam Martinez, Ananka Kohnitz
Mr. Haley's Secretary by Asmara Bhattacharya
Directed by
Cast: Vicky McCormick, Scott Holmes, Cheryl Tanner
Game Night by Lisa Bunse
Directed by
Cast: Tell Wells, Beverly Hutchison, Lance Stodghill,
#13 – 2010
Books on Tape by William Missouri Downs
Directed by Kathy Drum
Cast: Sudeane Holmes, Scott Holmes
Little Tricks by Carl Williams
Directed by Malinda L. Beckham
Cast: Kelly Walker, John Stevens, Jay Menchaca
How Can I Tell If It's Love? by Rand Higbee (Red Wing, MN)
Directed by James Reed
Cast: Lance Stodghill, Eileen Tucker, Taylor Biltoft, Vicky McCormick, Stacy A. Spaeth
A Gentler Place by Jeff Carter
Directed by Lisa Schofield
Cast: Katie Basch, John Hawthorne Smith, Russell Prince
Every Parent's Friend by Ed Vela
Directed by Trevor B. Cone
Cast: Patti White, Dottie McQuarrie, Sydney Dunlap, Sadie Brook, Katherine E. Brooke, Kate Samuelson
#12 – 2009
Portrait of a Mannequin by Carl Williams
Directed by Sam Martinez
Cast: Dustin Landry, Jenny Frame, Angela Denny
The Shifflet Project by Joe Barnes
Directed by Jay Menchaca
Cast: Suzanne King, Glenn Lambert, Norm Dillon, Samantha Crow, Carolyn Montgomery, Cathy Ransom, Osbie Shepard, Benji Valdez
The Wrong Door by George Rapier
Directed by Malinda L. Beckham
Cast: Trevor B. Cone, John Stevens, Justin Holloway
Matching Designs by John Zygmunt
Directed by Barbara S. Hartman
Cast: Stacy Spaeth, Tehana Weeks, James Reed, Lance Stodghill
Better Living Through Science by Lauren Tunnell
Directed by Mack Hays
Cast: Louis Crespo, Renata Santoro, Katie Basch, Nicholas Garelick, John Kaiser, Chelsea Curto
#11 – 2008
Café Deux Par-faits by Tanya Seale
Directed by Amanda Bonfitto
Cast: April Alzamora, Bobbie Giachini, Ken VanderVoort, Brian D. Armstrong, Anna Shaposhnikova
Holding on to Rose by Brian Heaton
Directed by Suzanne King
Cast: Justin Holloway, Mia Rose Greco, Lee Born, Gloria Favuzza
Simply Stunning by John Kaiser
Directed by David Holloway
Cast: Maria O. Sirgo, Cindy Tippins, Reagan Jordan, Cathy Ransom, Alex Johnson
A Thirties Affair by Carl Williams
Directed by Barbara S. Hartman
Cast: Brenda Kuciemba, James Reed, Stacy Spaeth, Simon Martinez
The Comity of Eros by Warren Holleman
Directed by Mack Hays
Cast: Scott Holmes, Ananka Kohnitz, Brian Heaton
#10 – 2007
Under the Oleanders by Kathleen C. Merritt
Directed by Ananka Kohnitz
Cast: John DeYoung, Maria O. Sirgo, Brian Heaton, K. R. Kretz
The Sketch by George Rapier
Directed by Trevor B. Cone
Cast: Stacy Spaeth, Kurt Bauer
Judgment Day at The Whistling Pig by Dennis Jones (Powhatan, VA)
Directed by Jay Menchaca
Cast: Ashley Barker, Kerry Jones, Lee Ray, Justin Holloway, Cathy Ransom
Instant Messaging by John Kaiser
Directed by Mack Hays
Cast: Brian Heaton, Nathan Suurmeyer, Claire Hunt, Tina Samuelson Bauer, Jay Menchaca
The Anniversary Gift by John Bohane
Directed by Mimi Holloway
Cast: John Biondi, Ashley Barker, Ananka Kohnitz
#9 – 2006
November at the Lake by George Rapier
Directed by Beverly Hutchison
Cast: Thomas White, Melrose Fougere
Your Local Neighborhood Pharmacy by Henry Kimmel
Directed by Mack Hays
Cast: Scott Holmes, C. Alane Johnson, John Kaiser, Carolyn Montgomery, Jim Salners
Blanko by Sam Havens
Directed by Mimi Holloway
Cast: David Holloway, John Hawthorne Smith, Carolyn Montgomery, Scott Mendell, Trevor B. Cone, Sam Havens, Jay Menchaca
The Black Dog by Joe Barnes
Directed by Jay Menchaca
Cast: Michael Ali, Justin Holloway, Suzanne King, Howard Block
Expedient Family by Ed Vela
Directed by Trevor B. Cone
Cast: John Hawthorne Smith, Tommy Waas, Kurt Bauer, Bobbie Giachini, Tina Samuelson, Ananka Kohnitz
#8 – 2005
Coming Back to Jersey by Carl Williams
Directed by Beverly Hutchison
Cast: Mack Hays, JoAnne Levine, Laura Schlecht, Rick Evans, Samantha Walker
The Wimp Factor by Ed Vela
Directed by Sheryl Stanley
Cast: Barbara Hartman, Olguita M. Santiago, Taylor Meyers, Sterling Knight
The Little Red Pill by Judd Lear Silverman (Brooklyn, NY)
Directed by Mack Hays
Cast: K. R. Kretz, Tina Samuelson
Reflections by Anna Louise Bruner
Directed by Lisa Schofield
Cast: Salle Ellis, Julie Gutman, Stacy Spaeth, Rick Evans
Love Sucks by Ralph Tropf
Directed by Vicky Beard
Cast: Cecil Trent, Ananka Kohnitz
#7 – 2004
Title Ophelia Rocks
Directed by
Cast John Stevens, Sallie Ellis,:
The Wait by
Directed by Mack Hays
Cast: Tina Samuelsen
The Dead Salesman by
Directed by Zona Jane Meyer
#6 – 2003
#5 – 2002
#4 – 2001
#3 – 2000
#2 – 1999
Traduzione (Translation) by Susan Owens
Directed by Paul Sidello
Embarcadero Night by Devon Green
Directed by Eric Dunlap
Cast: Jeff Featherston, John Mitsakis, Caroline
In the Middle of Nowhere by Eddie Cope
Directed by Debra Powell
Cast: Barbara Dell, Aaron Harp, Carl Masterson, David Holloway, Scott Murphy
Remembrance by Ed Vela
Directed by Jay Brock
Cast: Diane Baker, David Chatelain
God, Murder, and Apple Pie by Don Manes
Directed by Ananka Kohnitz
#1 – 1998
Under a Verdant Moon by Brian Williams
Directed by J. Eric Dunlap
Cast: J. Eric Dunlap, Beth Reid, Brett A. Hubbard
Man of the House by Dee Cliburn
Directed by Mimi Holloway
Cast: Ananka Kohnitz, Jill Alexandra Rock, Clay Henley, David Holloway
Final Curtain by Carl Williams
Directed by Walter McGroary
Cast: David Holloway, Tom Parker, California Jones, Leigh Chistensen, Jay Menchaca
Stew by Joyce K. Saylan
Directed by Beverly Hutchison
Cast: Ananka Kohnitz, Susan Williams, Molly Wills, Leigh Christensen
Blind Love by Bryan McGlothin
Directed by Brett A. Hubbard
Cast: Malinda L. Muller, Jay Brock
Comments
comments